SOL Design Collective is based in Brighton, one of many hubs of creative talent on the South Coast of England. The wonders of technology may have shortened the distances and given greater accessibility and audience to many, but  as we all re-assess the meaning of work /life balance, and the importance of location, we reflect on the many coastal hubs of creativity, and why so many artists historically, and today are drawn to base themselves near the sea!

Pictured above: Brighton Pier at Dusk courtesy Visit Brighton. Photo Adam Bronkhorst
In truth, it is hardly surprising that many British based painters and craftspeople favour being located near to our stunning coastal areas with its beauty and energy being reflected in their work.   A source of constant inspiration, from the English Channel to the North Sea, from unspoilt landscapes,  glowing sunsets or limpid water; reflections of  fishermen and families and the sights and sounds of the many seaside towns, we celebrate the diversity and depth of work across the nation, and hunt out and enjoy the pockets of artists congregated in seaside towns to practice their art together in clusters, which provides an additional attraction for visitors and locals alike.
Indeed, this is not a new phenomenon, like the Impressionists and post-Impressionists on the other side of the English Channel, the seaside town was the destination of many British and international painters, who went to hone their skills.  Artists then, were a new type of tourist who contributed to the wider appeal of the sea; it was a place to create art, and thank goodness, that continues today.
Many seaside towns remain important centres for the creative arts and house galleries and host events that celebrate the importance of this aspect of local life.
Here are some of our favourites to visit and enjoy over the last few months of the summer and beyond. Enjoy!!
With the art scene unfurling from lockdown, we are looking forward to Lewes' Art Wave  and Bournemouth's 10th Anniversary Arts by the Sea in September.  Hastings based Coastal Currents Arts Festival celebrates its successful crowdfunding campaign which means it's extended its reach to support arts projects from Eastbourne to Rye. Brighton's Artists Open Houses returns in November.
Further afield, I am looking forward to visiting St Ives later this month, its artist's colony is one of the most well-known. In 1920, Bernard Leach established his studio pottery there with Shoji Hamada; Ben Nicholson and Barbara Hepworth settled in 1939 and then from the 1950s younger artists arrived, effectively creating the St Ives School – amongst them Heron, Barns-Graham, Feiler, Frost and Lanyon. It's a suitable homage that Tate St Ives should open in 1993 housing, amongst other works, the Tate's superb St Ives' collection. Their exhibition of sculptor Naum Gabo's works runs till 27 September 2020. The Leach Pottery continues to inspire internationally, with their mission "to advance and promote pottery as an art form using craft and skills to bring beauty, enjoyment and well-being to life."
Tate's website describes the draw to St Ives as West Cornwall's 'special quality of light' and this attraction to light was also echoed in the small village of Newlyn, next to Penzance, where natural light was also a key factor along with documenting the lives of local fishermen and villagers through art. Founded by Walter Langley, and led by its 'father', Stanhope Forbes, in the late 19th century, the current Newlyn School of Art was set up in 2011 helped by Arts Council funding.
In other parts, East Suffolk's Blyth Estuary has inspired many artists for over two centuries; the estuary's mouth forms between the coastal towns of Southwold and Walberswick where it flows into the North Sea, and its attraction for painters is said to be a combination of the elements, together with its incredibly haunting, misty, atmosphere. Well known visiting artists included Philip Wilson Steer, Charles Rennie Mackintosh and Stanley Spencer; in the early 19th century Walberswick attracted watercolourists Peter de Wint and Cornelius Varley, in the mid-1880s a 'new wave' of painters including Frederick Brown and Frank Short, then between WWI and WWII an influx of Royal Academicians arrived including Dunlop, Clausen and Priestman. There is still an active group in the area.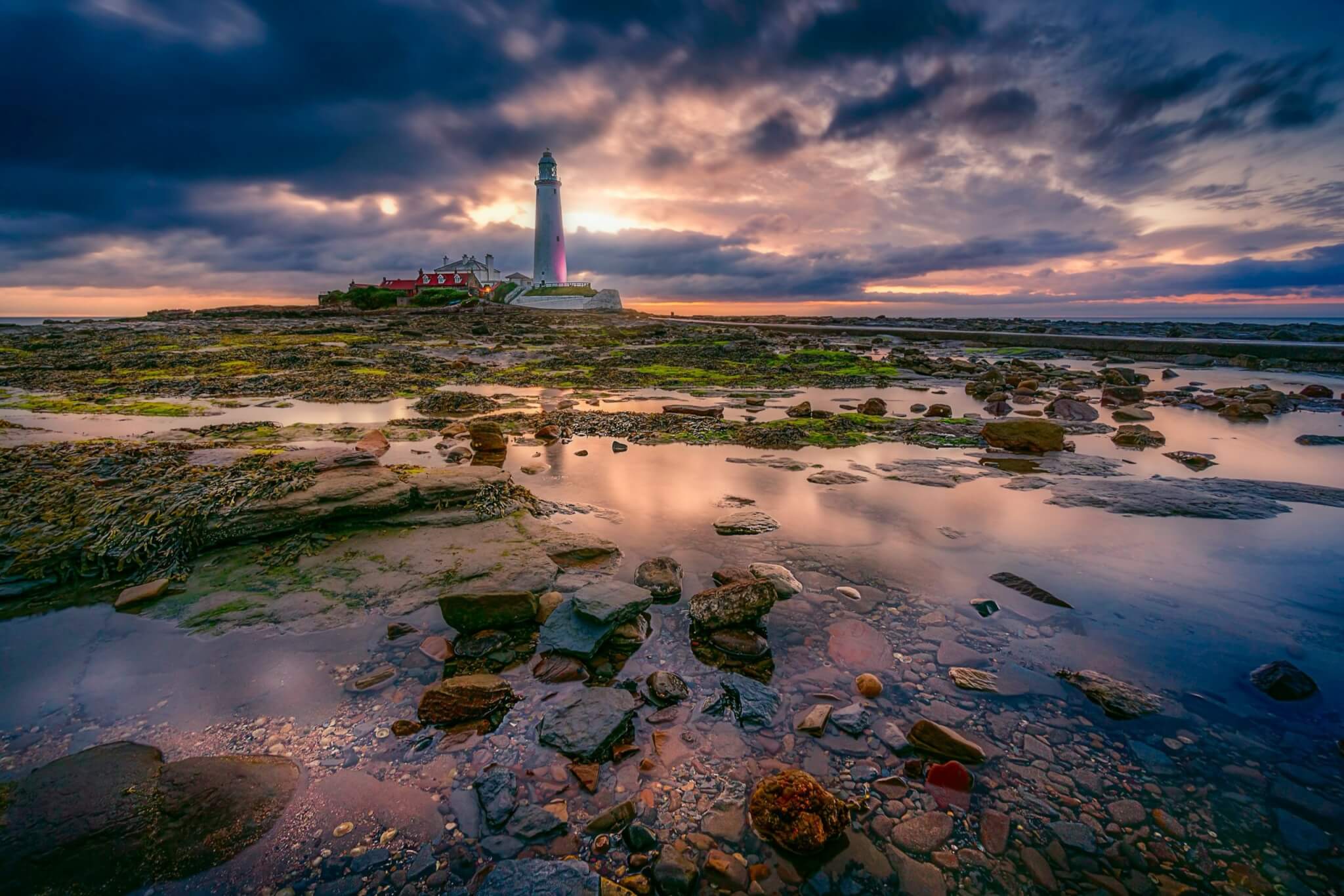 Pictured above: Whitley Bay (c) Ray Bilcliff
Moving further north, North Yorkshire's Staithes group had notable artist Dame Laura Knight (who later became part of the Newlyn School) amongst its community; again inspired by the French Impressionist movement, they set up in the small fishing village north of Whitby painting the marine landscape of the North Sea and often portraying the hardship of the locals. Across the years it counted amongst its group marine artists Joseph Bagshawe, Ernest Dade, William G Foster, and Frank Mason. It was Mason in the 1930s and 40s who created many posters for (the then named) British Railways to promote rail travel, very often from cities to the seaside thereby opening up coastal visits to the masses and creating a perfect artistic circle, supplying the people who would often become subjects of the local painters.
Moving further north again, Kirkcudbright artists' colony survived over 100 years with E A Hornel, originally of the Glasgow Boys, at its helm in the late 1880s. Along the way, the community built up to comprise both artists and craftspeople, including illustrator Jessie M King and her husband Ernest Archibald Taylor, oil painter, stained glass and furniture designer. A Wasps artists' studio, supporting contemporary visual and applied artists and makers, was opened in 2010 in the High Street providing 14 artist spaces to encourage and enable the continuation of the creative colony.
Wherever they are based, the artists and makers turning inspiration into reality are a source of pleasure and enjoyment from capturing and using the raw elements.
Grateful to you all.
Main photo: Childrens' Parade, Brighton Festival courtesy Visit Brighton Photo David Matthews
Co-written by  Judith Burns with thanks